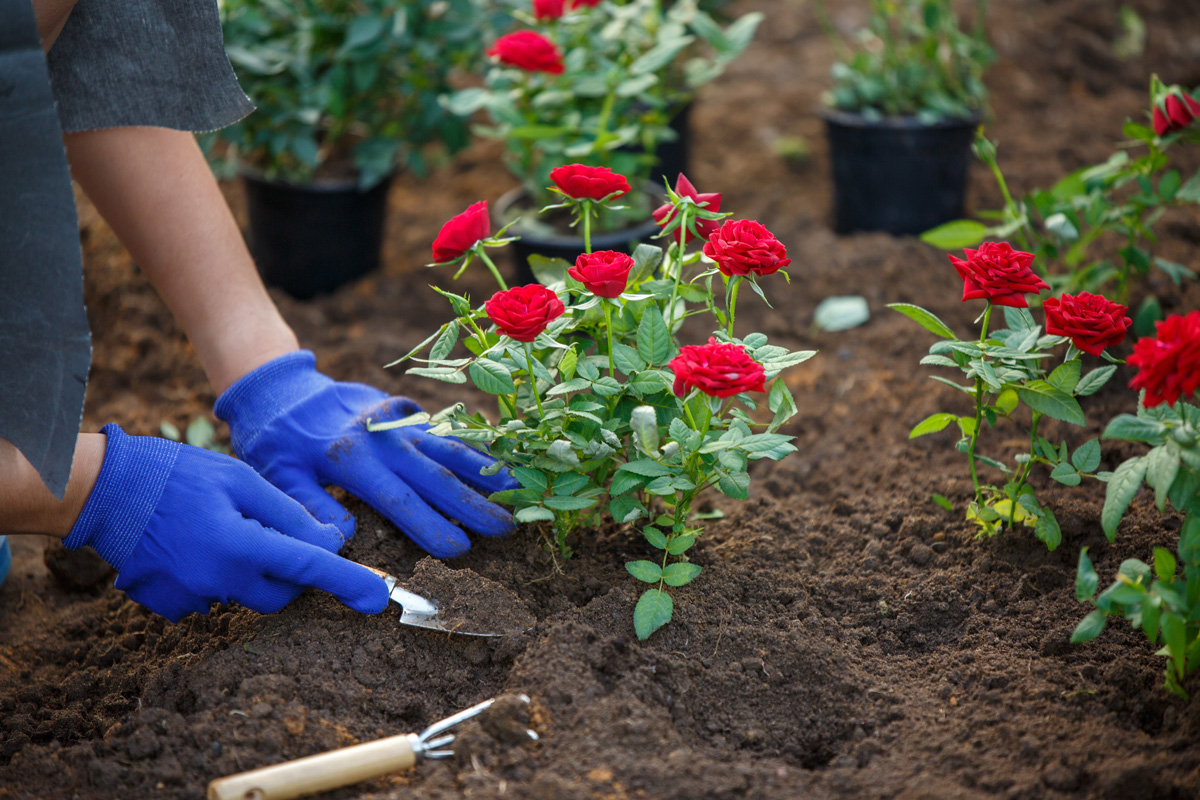 COMMON DISEASES
BLACK SPOT is one of the worst problems in Florida. Black Spot is a disease that most often infects roses in warm weather with high humidity. Infection occurs, when water hits the spores on the ground from fallen leaves and stems, splashing them up onto the new growth. The spores can also be transferred through air movement. Removing infected stems and leaves from the area will help prevent spread of this disease. Black Spot is easy to recognize. The infection starts as black patches on the upper leaf surface. These patches will darken and later be accompanied by yellowing in the leaves. The infected leaf will eventually fall from the stem. New growth is most susceptible. The spores must be wet to germinate for at least 9 hours. This is one of the reasons why running your sprinklers at night is not a good idea. Early morning watering is recommended, which allows the morning sun to dry the leaves. If leaves are allowed to stay wet for 9 hours or more, a germ tube can form from the spore and invade the leaf. The disease symptoms will appear within a week. New spores will form within 10 days. Black Spot will also appear on young stems as raised purple-black blotches. Stems that fall to the ground are the best place for the fungus to hide.
Control with:
DITHANE M-45 FUNGICIDE
GARDEN FRIENDLY FUNGICIDE – OMRI APPROVED
THIOMYL SYSTEMIC FUNGICIDE
Using a Spreader-Sticker with these products will increase their effectiveness.
POWDERY MILDEW starts out as slightly blistered, reddish area on the upper side of the leaf. The white "powdery" growth will appear later, twisting and deforming the leaves. Older leaves will generally not be unaffected. Flowers and young stems will also be covered with white fungal growth. This disease usually occurs in the months of cool nights with high humidity and warm days with low humidity. The leaf surface must be moist for spores to germinate but only for about 2 hours. Most of the infection occurs from airborne spores.
Control with:
LIQUID COPPER FUNGICIDE
GARDEN FRIENDLY FUNGICIDE – OMRI APPROVED
SULFUR WETTABLE & DUSTING
THIOMYL SYSTEMIC FUNGICIDE.
RUST can go unnoticed in the spring but can be seen with a magnifying lens early in the infection. The plant may become covered with a red-orange coating that distorts leaves and injures stems. The initial infection occurs during the winter but the symptoms are not apparent until it is too late. Rust is airborne, they enter the stomata when humidity (moisture on leaves) is high and the temperature is low (around 62 F).
Control with:
DITHANE M-45 FUNGICIDE
LIQUID COPPER FUNGICIDE
GRADEN FRIENDLY FUNGICIDE – OMRI APPROVED
THIOMYL SYSTEMIC FUNGICIDE
VERTICILLIUM WILT starts out as wilting of young leaves and yellowing of older/lower leaves. Later the stem will wither and die. The disease in easily confused with a thirsty plant during the midsummer but the wilt is accompanied by black marks on the stem. Some leaves will appear chlorotic (yellowing). Some leaves will also appear deformed. This fungus is different because it is "soil borne". The infection comes from the ground.
Control with:
THIOMYL SYSTEMIC FUNGICIDE as a soil drench.
DOWNY MILDEW causes symptoms similar to powdery mildew on the underside of the leaves. But it is different due to the dark irregular and yellow areas that develop on the top side of the leaf as well. Leaves are very quick to fall off. In Florida, downy mildew is only prevalent during the winter months after some cold, damp nights.
Control with:
LIQUID COPPER FUNGICIDE
DITHANE M-45 FUNGICIDE
GARDEN FRIENDLY FUNGICIDE – OMRI CERTIFIED
BOTRYTIS BLIGHT or Cane blight appears as black spots on brown, dead canes. This same fungus will wilt bud quickly with black areas and a brown halo.
Control with:
A combination of DITHANE M-45FUNGICIDE AND THIOMYL SYSTEMIC FUNGICIDE is recommended.
COMMON INSECT PESTS
APHIDS are red or green, wingless, about 1/10 inch long (use magnifying glass), mostly found of new growth. Aphids will cause curled leaves and malformed flowers.
Control with:
PERMETROL LAWN INSECTICIDE
MALATHION 50% E.C.
TRIPLE ACTION NEEM OIL (100% ORGANIC)
NATURAL PYRETHRIN CONCENTRATE (100% ORGANIC)
THRIPS injure only flowers, the infested flowers will develop white spots or fail to open before shedding. Thrips are a elongated, light-brown insect about 1/8 inch long. Thrips hide mostly at the base of the flower. Thrips multiple substantially during breeding season, generally around the same time citrus trees are in bloom. Spot spraying the blooms offers the best control.
Control with:
PERMETROL LAWN INSECTICIDE
MALATHION 50% E.C.
PYRETHRIN CONCENTRATE
CONSERVE – NATURALYTE INSECT CONTROL – OMRI APPROVED
RED SPIDER MITES appear as fine grains of sand (under a magnifying glass they appear as spiders). These mites dwell on the leaves. Red spider mites favor hot, dry weather. The leaves will turn yellow and fall off.
Control with:
PYRETHRIN CONCENTRATE
PARAFINE HORTICULTURAL OIL
TRIPLE ACTION NEEM OIL
---
IMPORTANT TIP:
Only spray insecticide if there is a problem; spraying insecticides when there is no injury seen can sometimes destroy the reason that you do not have a problem.

---
HERBICIDES
Roses are very sensitive to post emergent herbicides such as Round-up, Atrazine, Trimec, Lawn Weed Killer, etc. It is recommended to cover roses while spraying with herbicides. Some pre-emergent herbicides may be used in rose beds, like WEED PREVENTER.
FERTILIZERS
NUTRIENT DEFICIENCIES can be seen on roses as fading and/or yellowing or browning patterns. This can happen when using fertilizers that do not contain enough magnesium and iron. To correct and prevent these deficiencies, we suggest one or more of the following:
CHELATED FLOWER & GARDEN NUTRITIONAL SPRAY
IRON GRANULES
MAGNESIUM SULFATE
Using a good quality slow release fertilizer will do wonders for the overall health of your roses.
Recommended:
CONTROLLED RELEASE FERTLIZER 14-14-14
SUGGESTED LINKS:
http://www.ars.org/advances-in-understanding-rose-replant-disease/
http://gardening.about.com/od/rose1/a/RoseDisease.htm
http://www.gardeningknowhow.com/ornamental/flowers/roses/rose-bush-diseases.htm