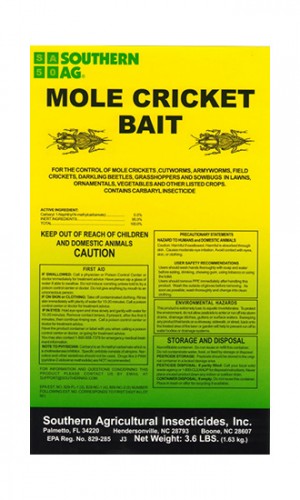 MOLE CRICKET BAIT
Same formulation used by golf courses and sports fields
Low use rate
CONTAINS: 5% Carbaryl insecticide on an attractant feed base.
USE ON: Vegetables, flowers, fruits, lawns, and ornamentals.
CONTROLS: Cutworms, armyworms, crickets, darkling ground beetles, mole crickets, grasshoppers and sowbugs.
RATE: 0.45 lb. to 0.9 lb. per 1,000 sq. ft.
APPLICATION: Apply evenly over area with fertilizer spreader.
PACKED: 8 x 3.6 lb. bag – #08353,
9 lb. bag – #08359
Also available in a 40 lb. bag.